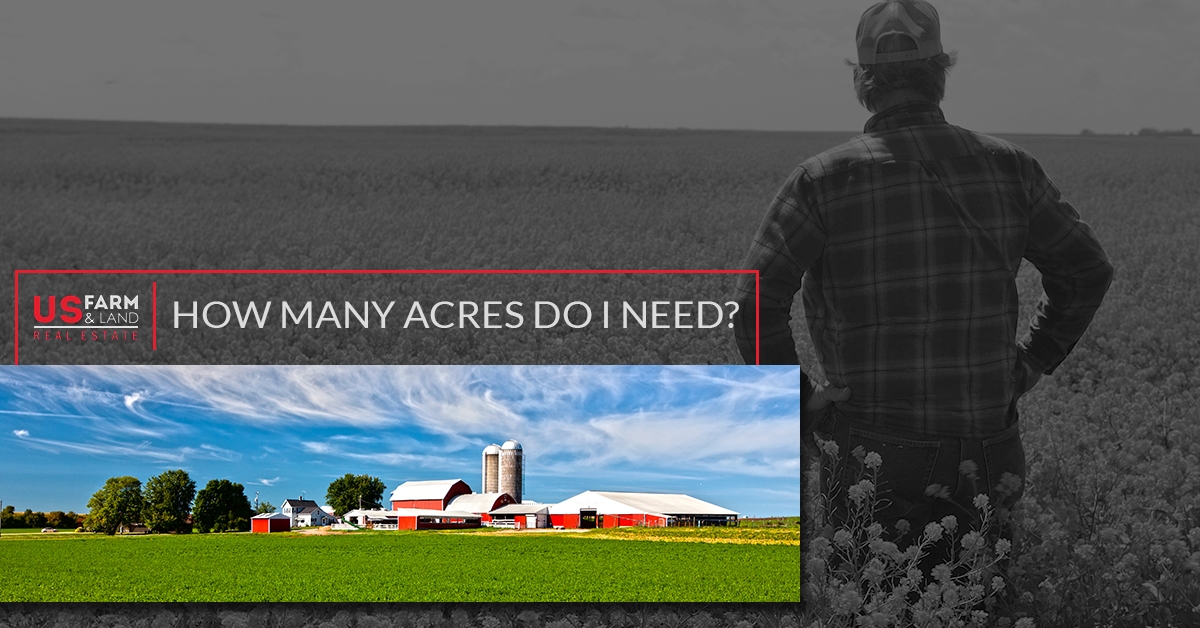 When potential landowners first start looking at land and farms for sale, there is one number that might be confusing, especially for those who didn't grow up on a farm: the acreage. At US Farm and Land, we offer humble one-acre lots, and gigantic lots for sale with 400 or 500 acres. Before we get started, let's talk about how much an acre is.
Visualizing Acreage Of Farmland
One acre is equal to 43,560 square feet. While this may seem like a big number, you might be surprised to learn that an acre is smaller than a football field. To help you visualize how many acres you might want on your farmland, here are a handful of well-known places and their corresponding acreage.
An NFL football field is roughly 1.3 acres

A Manhattan city block is about 2 acres

A standard Polo field is just over 12 acres

Alcatraz Island in the San Francisco Bay is 22 acres

The United States Capitol spans 57 acres

Vatican City, the world's smallest nation, includes 110 acres

Disneyland in California sits on about 160 acres

Monaco, a city-state bordering the Mediterranean Sea, is 500 acres

Central Park in New York City spans just over 840 acres

The United States has nearly 2.5 billion acres of land
How Much Land Do I Need?
Sometimes it's easiest to respond to this question with a question: How much land do you want? What do you want to do with the land? Some land buyers are looking to purchase farmland simply to get away from the city, but aren't necessarily looking to add "farmer" to their resumes. Others are venturing to start a small, working farm, and others still simply want their own land to hunt on. Obviously, this will dictate the amount of land you need.
Eggs and Honey
Some people are looking to buy some rural property just to help add a few natural, home-grown elements into their lives such as raising chickens only to collect eggs or keeping bees to collect honey. This can be accomplished on as little as a half-acre if desired.
Hobby Farm
If you're looking to get a plot of land to use as a hobby garden, meaning you only need to farm for personal use, the size will depend on what type of homesteading you're doing. If you're going to have horses or cows grazing off of the land, you should budget for no less than 1.5 acres of grazing land per animal. However, a couple dozen chickens can live nicely on a quarter acre, each goat should be allotted about a quarter acre as well.
Acreage for farming will depend on what you are growing. A small orchard might need 5 or so acres, whereas ground fruits and vegetables for the whole family might need 1-2 acres. Talk to our land and farm realtor about what your goals for your hobby farm are. One family might need one acre to accomplish what they want to, while another might need 40.
Hunting Land
When looking at hunting land for sale, you'll have a higher minimum size you'll want to look for, as well as different terrain. The size of land you want will also vary on what you're hunting. To start with, land without water like a lake or stream on it won't attract much wildlife. If you are hunting deer with a rifle, you'll want at least 40-60 acres – and that's on the smaller end. The bigger your land, the more hunters you can have hunting together. However, bow hunting or fowl hunting could work on smaller plots of land for sale, sometimes as small as 10 acres.
Cattle Ranch
If you are planning on raising cattle for meat, your necessary acreage will depend on how many cows you want, and if you want to be able to label them as "grass-fed" for market. Grass-fed beef is a huge seller right now thanks to its health benefits, and ensuring you are producing quality meat will depend on the grazing land that your livestock has access to and the type of grazing you allow. Free grazing cows will need 1.5-2 acres per cow to support them year after year, so to raise 50 cows, you'll need roughly 100 acres. However, if you are using a rotational grazing method, you might be able to get away with 50 cows on 50 acres. Rotational grazing requires more maintenance, but because you rotate the cows from paddock to paddock every set grazing period, the previous paddocks have time to restore themselves before more grazing is done on them.
Looking For A Farm For Sale?
If you are looking for farmland for sale in Missouri, Kansas, Iowa, or Nebraska, you have come to the right place. At US Farm And Land Real Estate, we specialize in helping buyers find the rural properties of their dreams. Whether you are looking to simply get away from the city in a nice country home for sale, or are looking for hundreds of acres of farm or hunting land for sale, be sure to get in touch with Roger Parshall, your premier land and farm realtor. Or if you prefer to do some browsing, use our search tool to find land and farms for sale.