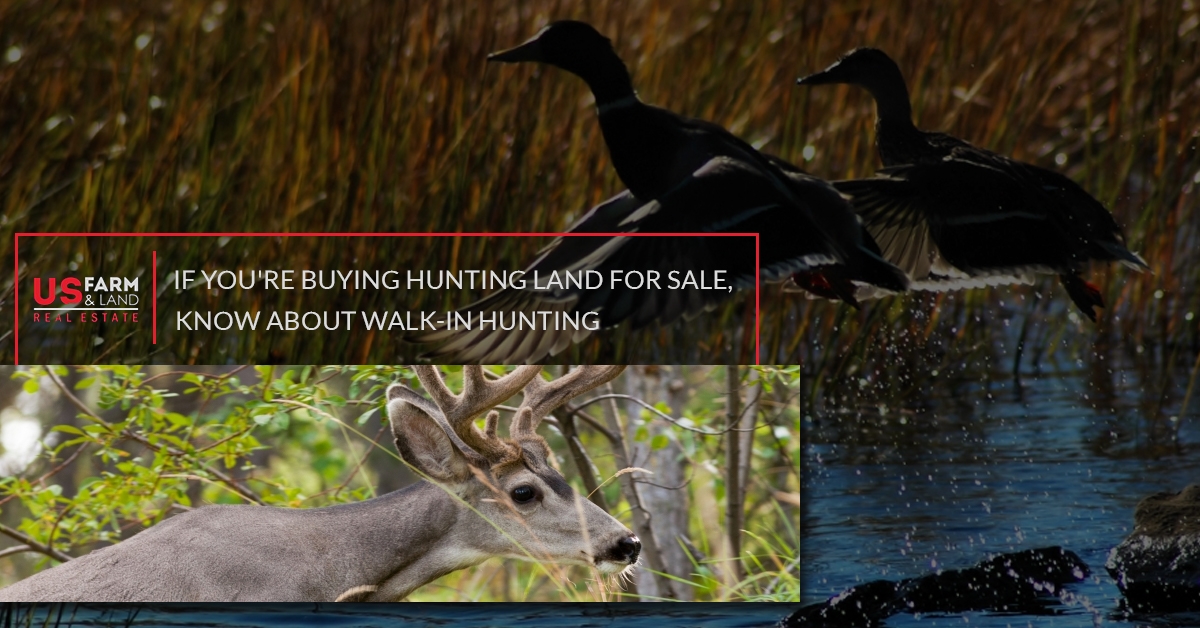 Did you know that 97 percent of Nebraska's land is privately owned? And over 93 percent of Missouri land is privately owned. Iowa and Kansas – the other states where US Farm And Land has rural hunting land for sale – are not far behind. With so much privately owned land, how do these four midwestern states have such big hunting programs?
The answer is a variety of so-called "walk-in" hunting programs. These programs go by different names from state to state (we'll get to this below), but essentially they all do the same thing. The state will pay landowners a certain amount per acre of land that they offer up to the public to use for hunting purposes. The amount a landowner is paid per acre will depend on the quality of land for hunting, but many of these programs also offer landowners resources for increasing the hunting prospects on their land over time.
Nebraska: Open Fields And Waters Program
When you buy hunting land in Nebraska, you have the opportunity to sign up for the Open Fields And Waters Program (OFW). Certain requirements must be met for your land to qualify, but qualifying landowners could get compensated anywhere between $0.50-$15 per acre. Nebraska also offers protection from liability, should a hunter be injured on your land under the Nebraska Recreation Liability Act. Currently, Nebraska is very interested in increasing game bird hunting, so land with great habitats for pheasants and other fowl might fetch a higher price per acre.
Missouri: Missouri Outdoor Recreational Access Program
After you purchase hunting land for sale in Missouri, you can register for the Missouri Outdoor Recreational Access Program (MRAP) if your land meets the designated qualifications. To be eligible for MRAP, landowners must offer at least 40 acres of land, and at least 20 percent of that land must prove to be a quality habitat. The exception to this rule is if you are offering fishing opportunities for anglers, in which case smaller plots of land will be considered. Missouri offers different levels of hunting access, depending on whether you want to provide all types of hunting and fishing, just fishing, small game hunting, wildlife viewing for residents to simply enjoy and photograph nature, or youth hunting where only children accompanied by adults are allowed to hunt. MRAP typically offers a high compensation of $15-25 per acre each year. Like Nebraska, Missouri also offers liability protection under the Missouri Recreational Use Immunity Law.

Kansas: Walk-In Hunting Access Program
Kansas's Walk-In Hunting Access Program (WIHA) is one of the oldest and most successful in the midwest and dates back to 1995. At $0.50-$6 per acre, Kansas's compensation is more modest than the other states, but farmland for sale in Kansas is often cheaper than the other midwestern states, so it balances out. WIHA allows several hunting seasons where you can open your land, including a turkey-only hunting allowance in the spring. Additionally, WIHA enforcement will often patrol your land, post proper signage, and mark safety zones, as well as provide liability and immunity from injuries.
Iowa: Iowa Habitat Access Program
While the states above will pay landowners directly for their participation in the program, the Iowa Habitat Access Program (IHAP) works a little differently. If you buy hunting land for sale in Iowa and choose to participate in IHAP, you will be provided habitat improvement funds that can be used to conserve and improve your land. This can include covering the cost of seeding for crops, herbicides, brush management, mowing, and more. While this may not sound as enticing as receiving cash for each acre, this is an investment in your land that can improve the value over time. Iowa offers "limited liability" for landowners, where they should be protected in most cases unless they fail to notify the public of known dangers on their property.
Invest In Hunting Land For Sale, Invest In The Future
Buying hunting land is a wise investment in and of itself, but when you use these programs to open up your hunting land to the public, you add more value to your land over time. Not only that, but you allow Midwestern residents to continue the tradition and practice of hunting, something that is rapidly dwindling in America. US Farm and Land is the premier rural real estate business when it comes to buying hunting land for sale throughout the Midwest. If you have any questions about investing in hunting land, don't hesitate to give us a call or send us a message. Or, if you know what you're looking for, check out all of our hunting land for sale in Kansas, Nebraska, Iowa, and Missouri.
*Information in this blog is subject to change. Check with your farm and land realtor or parks and recreation representatives in your state for the latest changes.